April 3 & 4,  1974
Super Tornado Outbreak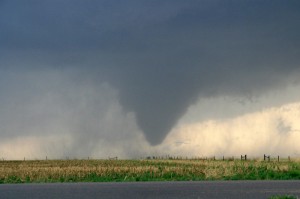 One hundred forty-eight (148) tornadoes struck a large part of our operating area on this date in 1974.  Within 16 hours tornadoes were reported in Illinois, Indiana, Michigan, Ohio,  Alabama, Georgia, Kentucky,  New York,   North Carolina, Tennessee, Virginia, and West Virginia.  Thirty (30) F4 and F5 tornadoes helped make this the most violent tornado outbreak recorded.  The combined path length was twenty-six hundred (2600) miles. Over three hundred thirty (330) people were killed.  Almost fifty-five hundred (5,500) people were injured.

Remember, Tornado Season is here.  Be prepared and stay safe.
An informative article written by Roger Edwards of the Storm Preparedness Center in Norman, Oklahoma can be found by clicking the link below.
http://www.spc.noaa.gov/faq/tornado/safety.html