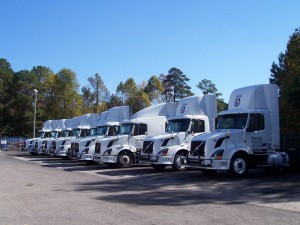 We welcome the professional drivers at our new Lumberton operation into our Swing Transport family. We were fortunate to have over a hundred drivers apply for the 10 driving positions. The best of the best were brought into our operation along with Neelis Smith, the Terminal Supervisor.
Swing Transport specializes in time-sensitive, service intensive service.
Swing Transport operates in the Southeast offering top-shelf transportation service. Trucking operations are located in Huntsville, AL, Augusta, GA,, Asheboro, Lumberton, Manson, and Salisbury, NC; Florence, Prosperity, and Spartanburg, SC; Big Island, VA, Martinsville, VA, and Richmond, VA.
Professional Drivers may talk with a recruiter at 704-633-3567. We currently have employment opportunities available.
Swing Transport, Family Strong