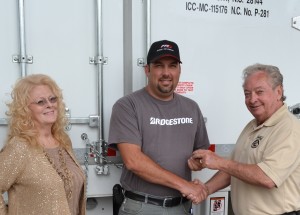 Valerie Myers of Swing Transport's Human Resource Department and Dan Summitt President of Swing presents Shop Supervisor Brad Durham with his 15 Year Service Award.  Brad choose the Swing Ring which has to be one of the most unique pieces of jewelry around. 
Brad started his career with Swing in 1999 as a Mechanic's Assistance.  His leadership of our maintenance program has assisted immeasurably in the success of our Safety Program.
__________________________
Swing Transport operates in the Southeast offering top-shelf transportation service.  Trucking operations are located in Huntsville, AL, Augusta, GA,, Asheboro, Lumberton, Manson, and Salisbury, NC; Florence, Prosperity, and Spartanburg, SC; Big Island, VA, Martinsville, VA, and Richmond, VA.
Professional Drivers may talk with a recruiter at 704-633-3567.  We currently have employment opportunities available.
Swing Transport, Family Strong