For Immediate Release: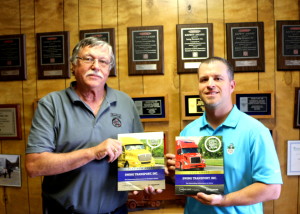 South Sioux City, Nebraska – Swing Transport, Inc. was recently presented a Gold award by Great West Casualty Company as part of the 2014 National Safety Awards Program.  Additionally, Swing was awarded a Platinum award for Workplace Safety for 2014. This marks the 8th consecutive year that Swing has earned the highest honor from Great West.
Swing Transport is a dry good carrier who began operations in 1975.  With corporate headquarters located in Salisbury, NC and terminals located in Virginia, North Carolina, South Carolina, Tennessee, Georgia and Alabama, the management team at Swing is constantly striving for safety improvement.  Great West Casualty congratulates their efforts for making the roads safer for the motoring public.
The National Safety Awards program recognizes carriers in similar operations (truckload and less than truckload) with awards based on their year-end preventable accident results. Carriers are eligible to receive a Platinum, Gold, Silver, or Participatory award. The Workplace Safety award recognizes trucking companies for their dedication to creating and fostering a safe work environment for their employees.
Great West Casualty Company is the nation's leading provider of property and casualty insurance for the trucking industry. With over 50 years of experience, Great West offers risk management, underwriting, claims, and loss control services exclusively to the trucking industry. Great West is headquartered in South Sioux City, Nebraska, and has regional offices in Meridian, Idaho; Bloomington, Indiana; Knoxville, Tennessee; and Arlington, Texas.
For more information contact:
Kevin Sherritze
Vice President
Joe Morten & Son, Inc.
800.493.7451